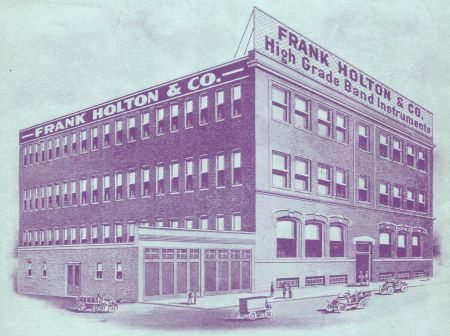 Chicago Factory (1915 Exposition Catalog)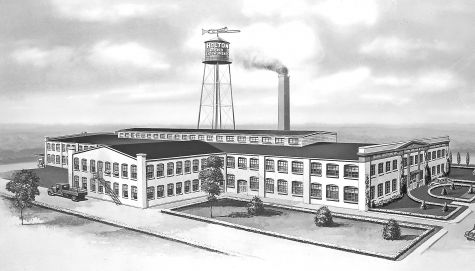 photo by Bill Willroth
The Holton Factory in Elkhorn, Wisconsin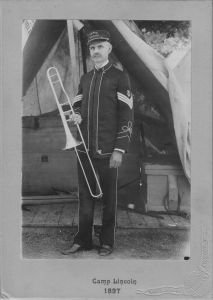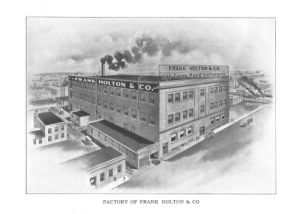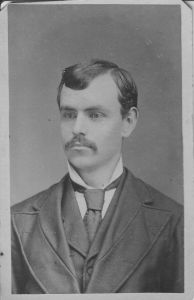 The History of Frank Holton & Company



Note: This overview has been edited from its original appearance in the 90th Anniversary Issue of Holton's Harmony Hints (1988).

Frank Holton's dream is 90 years old and burns even brighter than ever. In the waning years of the 1800s, an unconquerable spirit of growth and optimism was sweeping America. The West had been tamed, the nation's borders touched two oceans, and man would soon learn to fly.
The world came to Chicago, and so did John Philip Sousa's band – its first major appearance. In a quieter part of town, after the reveling throngs had left the fair. Sousa's first trombonist remained behind and began tinkering in his apartment. Boiling various combinations of animal and mineral oils on his kitchen stove, he was searching for the formula that would revolutionize trombone lubricants. Frank Holton wrote of those early experiments, "There had been plenty of failures, and once I nearly set our flat on fire, but I finally came up with something I felt was really good, and so did other trombone players." In the marketing idiom of the day, he labeled his creation "Electric Oil," which he sold by mail in one-ounce bottles.
This modest beginning proved, alas, to be woefully modest. "At the end of two years," Holton reported, "I found that my transactions showed a loss instead of a profit." Determined to succeed not only as a musician but as a businessman as well, he cautiously expanded his venture by opening a used-instrument store in two small rented rooms on the third floor of an old building at the northeast corner of Clark and Madison Streets.
Six months passed before he could afford to hire an office boy at $3.00 per week. He took nothing out of the business as his own salary and played trombone nights and Sundays to help meet expenses. Mrs. Holton contributed to the effort by giving music lessons during those first few lean years.
By 1898 the business proved profitable enough that Holton could finally embark on his dream to hire an instrument maker and begin experiments to build a better trombone. By year's end he was able to offer an instrument known as the "Holton Special," which found rapid acceptance, providing the means for Holton to broaden his line. The original trombone oil had been joined by an equally good valve oil, and sales both expanded greatly. As the world moved into the new century, Frank Holton  moved into larger quarters at State and Madison Streets.
The young company wasted little time adding various instruments to its line. A cornet was offered as early as 1900. The first edition of Holton Harmony Hints appeared in 1904, offering trombones, cornets, valve trombones, trumpets, mellophones, euphoniums and a wide variety of drums, cymbals and accessories. A 1902 photograph shows a workforce of fourteen people; by 1906, there were about 100 employees.
Around this time, Frank Holton struck up a friendship that was to prove pivotal in the eventual location of his factory. Holton wrote: "He was an exceptionally good customer, for he always paid cash. This man was George Renner of Elkhorn, Wisconsin, director of the Tibbets Band. The friendship grew, and in summer months Mrs. Holton and I spent many delightful weekends with the Renners, and eventually Mrs. Holton and I bought a farm near the Renners as a sort of summer home."
The next ten years saw continued growth, a new factory on Chicago's West Side and endorsements from principal players in most of the country's major orchestras – including Vincent Bach, first trumpet with the Boston Symphony. The new factory, once expanded, was quickly outgrown, and in 1916 a two-month strike at the Chicago plant forced Holton to seriously consider an idea that had been offered as an idle challenge by his friend Renner: move the Frank Holton Company to Elkhorn.
Holton liked the idea, but feared that the expense of the new building and the move would prove prohibitive. Elkhorn then had a population of only 2000, and the possibility of attracting a factory with 200 jobs was irresistible, so a committee of citizens was formed to gather bids and solicit pledges for funds, labor and hauling. The campaign succeeded, and Holton notified the committee that it would indeed move to Elkhorn. The January 4, 1917, Elkhorn "Independent" reported the news with banner headlines, calling the previous night's celebration "the greatest demonstration the city has ever witnessed."
Contracts were signed on March 13, 1917. The factory began operation in the spring of 1918. Finally, title to the property was transferred from the city's holding company to the Holton Company in 1920. Holton's early years in Elkhorn were less than rosy, beset by the problems of training a new workforce and providing suitable housing for them. What's more, problems caused by an unscrupulous business associate led to four years of litigation in the mid-1920s. The case was ultimately decided in Frank Holton's favor, but only at the expenditure of energy and resources that could have been far more profitably spent.
Still, the business flourished, largely as the result of the saxophone craze that swept the country after World War I. It seemed that no home was complete without a C-melody sax, and Holton made a fine one that was endorsed by such artists as Frankie Trumbauer and Rudy Wiedoeft. The saxophone market pushed total Holton sales to nearly a million dollars in 1923, and employment had grown to over 300.
Also in the 1920s, Holton pioneered the effort to organize school bands directly by qualified factory salesmen. To overcome the negative image of the fly-by-night huckster that would later be immortalized in Meredith Wilson's "Music Man," Holton developed a Guarantee Plan for schools: a playing band within twelve weeks or Holton would take back all instruments and refund all payments made. The plan worked, and the company found its profits increasingly dependent upon sales to the student market. So in 1930, Holton announced plans to market a complete line of Collegiate instruments – student editions of Holton originals that embody all of the company's traditional quality in tone, tuning and ease of playing.
The Collegiate instruments were enthusiastically received, but a host of other factors conspired to spell trouble for Holton during the 1930s. The Depression, of course, took its toll on all businesses. Widespread availability of radio and talking movies signaled the end of vaudeville and theater orchestras, reducing the demand for professional-line instruments. Surviving sales reports indicate bugles sold  during the Great Depression, likely to cities and schools, helped keep the company in business. Though, a series of misguided marketing decisions nearly led the company into bankruptcy.
The near-collapse of his company seriously affected Frank Holton's health, and he was forced to seek help at a health resort in Pennsylvania, leaving management of the business in other hands. He returned to Elkhorn when his strength permitted, but his control of the company became titular. In 1939, when employment was down to 106 people, Fred Kull purchased Holton's controlling block stock in the company.
On April 16, 1942, Frank Holton died. His story is that of a man of rare musical talent who showed perseverance and vision in the face of great obstacles. A self-taught musician, he ultimately won recognition as the top trombonist of his time, having performed with Barnum & Bailey's Circus, Ringlings, Brooks Concert Band and Sousa himself. Characteristically, he established a business that met high standards of quality and fair dealing. Most important, he is remembered for his love of music and his untiring service to musicians and the music industry. The story of Frank Holton Company does not end with the man's death, however, for his company lived on to know far better times.
The onset of America's involvement in World War II did not look promising for Holton. Its stock of finished instruments was frozen for possible use by service bands, and purchase of brass and brass alloys was strictly regulated. The company hobbled along with minor war-work contracts until 1943, when an urgent need developed for a factory with open screw machines to get into quick production of the M-66 anti-tank shell fuze. Holton got the contract and was kept busy day and night till the end of the war, twice receiving the Army-Navy "E" Award for Excellence in War Production.
In late 1944, Fred Kull died, leaving his controlling stock in the company to his brother, Grover Kull, with the stipulation that Grover sell this stock to Elliott Kehl over a period of years. Kehl had effectively managed the company during the period of Fred Kull's waning health, and Grover Kull never took an active part in management after assuming the company's presidency. Elliott Kehl was named Executive Vice President and he later became major stockholder of the company, a position he held until Holton came under the management of its current owner.
Holton's "boom years" of wartime production left the company with mixed blessings when the conflict ended. Due to chaotic personnel changes during the war, there were only about 35 experienced instrument makers on the payroll when the factory was set to resume instrument production in 1945, and an arduous period of retraining ensued. On the positive side, the war effort provided the company with a quick education in operations control, necessitating, for the first time, an engineering department to draft blueprints of parts. Holton found itself entering the modern age of manufacturing, and the factory was well on its way to more efficient operation.
But Holton's greatest strength in overcoming its postwar problems was surely found in the quality of its instruments. Holton's key instrument designer during this period was Arvid Walters, an Elkhorn native with a perfect ear and a lip that could handle anything from a trumpet to a tuba. It was Walters who worked with Philip Farkas to design the legendary Holton Farkas double French horn in 1956.
The rest of the 1950s and early '60s was a period of moderate but steady growth, as it was for so many American businesses. The postwar Baby Boomers entered school, demand for student instruments was on the rise, and electronic music had barely yet emerged from the laboratory.
Early in 1964, Elliott Kehl received an inquiry from Vito Pascucci of the G. Leblanc Corporation (who had himself apprenticed in instrument repair at Holton in his youth) as to whether or not the Holton Company might be for sale. Kehl and Grover Kull had in fact discussed this possibility in the past, and there were again reasons to consider the idea, rising primarily from difficulties within Holton's small sales force.
If Leblanc were to take over operations, Holton would no longer be responsible for sales. What's more, both manufacturers saw the clear marketing advantage of offering their products as part of a full line of woodwinds and brasswinds. Finally, the proposal came from a company led by a man who, in a few short years, had built a business from scratch, surpassing others that had existed for many decades. To combine two Wisconsin instrument makers under Vito Pascucci's leadership would surely be good for all concerned, and the vote to sell was unanimous.
The alliance between Leblanc and Holton has clearly been the right course for both companies. Vito Pascucci, President of Leblanc, and his son, Leon Pascucci, who served the corporation as Senior Vice President [and later President], have taken on the sales and marketing burdens that once vexed Holton and have freed the Elkhorn workforce to concentrate on what it does best – building the finest brasswinds in America. [In the 1980s], the plant was under the direction of Plant Manager Gabby Westphal, a 50-year veteran of the company,
Equally important, the world of professional musicians has greeted each new Holton offering with both respect and enthusiasm. Larry Ramirez, who started as a tester at Holton in 1962, worked with Arvid Walters and began experimenting with instrument designs of his own a year later. He is responsible for all Holton designs since 1979 and now serves the corporation as Leblanc's Chief Design Technician for Brasswinds. [Ramierez would later serve as Plant Manager, until the Holton Factory was closed in 2008 by the current owner, Conn-Selmer, Inc.]
When the Frank Holton Company was acquired by G. Leblanc Corporation in 1964, a new partnership was forged in pursuit of the finest band instruments that technology and craftsmanship could produce. Students and artists alike can now choose from instruments bearing some of the most respected names in the industry – Collegiate, Maynard Ferguson, Philip Farkas, Opus and, most recently, Barry Tuckwell. Yet they are all Holton, all world-class instruments from the world of Leblanc.
1988 marks 90 years since Frank Holton opened shop in Chicago and began his quest to build a better trombone. We know he'd be proud to see how his dream has taken root and flowered. And we've only begun. Sharing the vision and the indomitable spirit that marked the turn of the last century, Holton and Leblanc now stride confidently into the next.
[Holton became part of the Conn-Selmer family in 2003].
Compiled by Mike Johnson. Edited by Ken Drobnak. Information in [ ] solely edits of Drobnak.
---
Holton Instrument Links
---