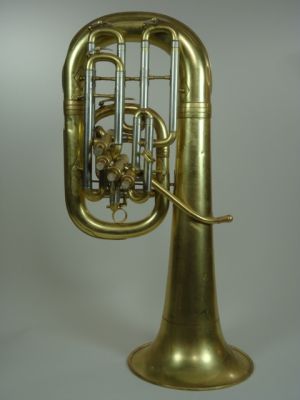 NMM 13,830 Euphonium in Bb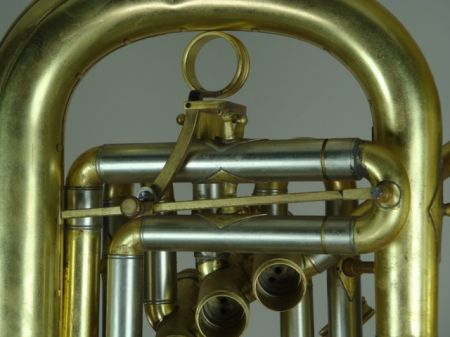 The instrument has been attributed to Martin due to the ferrule decoration. In addition, each piston has a metal notch on the top for alignment, with a cork and pad on top, another Martin characteristic. The 1961 Martin Catalog has a picture of a 3-valve side action euphonium (baritone horn) with the general shape of 13,830 and the ferrules with the double set of double engraved lines (specifically on the bell bow ferrules). 
The main tuning slide is on the proximal side of the instrument and features a mechanism that allows for intonation adjustment while playing. A thumb ring has been soldered to a lever that is fastened to a rod that is connected to the slide. The slide can be controlled by the thumb or a finger on the left hand with a parallel left to right motion. The rod appears to be similar to a lyre rod as it is four-sided and its placement can be adjusted with a lyre screw. The thumb ring is secured to a C-brace that is secured to the tubing with two braces. The design of this mechanism necessitated two right angle turns in the third bow.
Another Martin instrument (NMM 13807), built in the same time period, also featured a tuning slide mechanism. It is unknown whether this model went into production.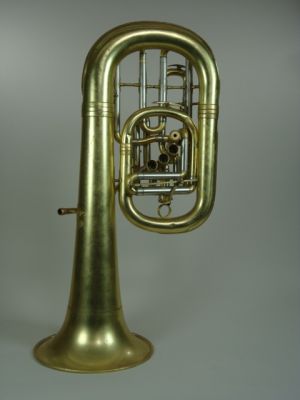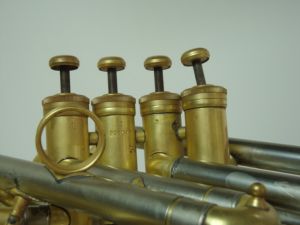 The fourth valve is lower for player comfort. There is also a thumb ring to assist the player to keep control of the instrument.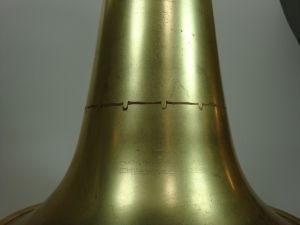 The tab seam is clearly visible on the bell.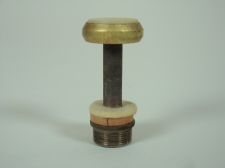 In addition to the ferrule decoration, the Martin valve design differs from other American manufacturers in that the valve stem is connected to a circular metal piece that attaches to the piston. Most manufacturers design the valve stem to screw directly into the piston.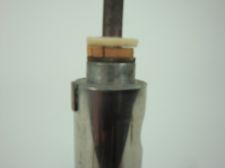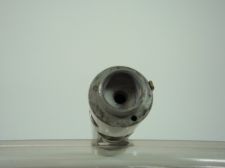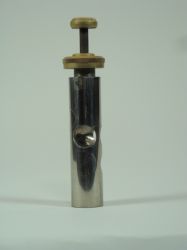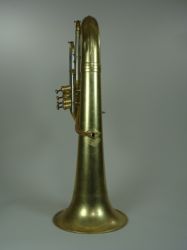 Measurements: 
Model: Prototype
Serial number: 203640
Sounding length: 2623 mm (103-4/16 in.)
Bell diameter: 254 mm (10 in)
2nd valve branch Inner diameter: 14.1 mm (.558 in)
2nd valve casing inner diameter: 20.5 mm (.809 in)